Category: Mixers - Stirrers - Shakers | Subcategory: Sieve
Advantech 8" DuraTap Sieve Shaker With Sound Enclosure Cabinet
ITEM: 31212 In Stock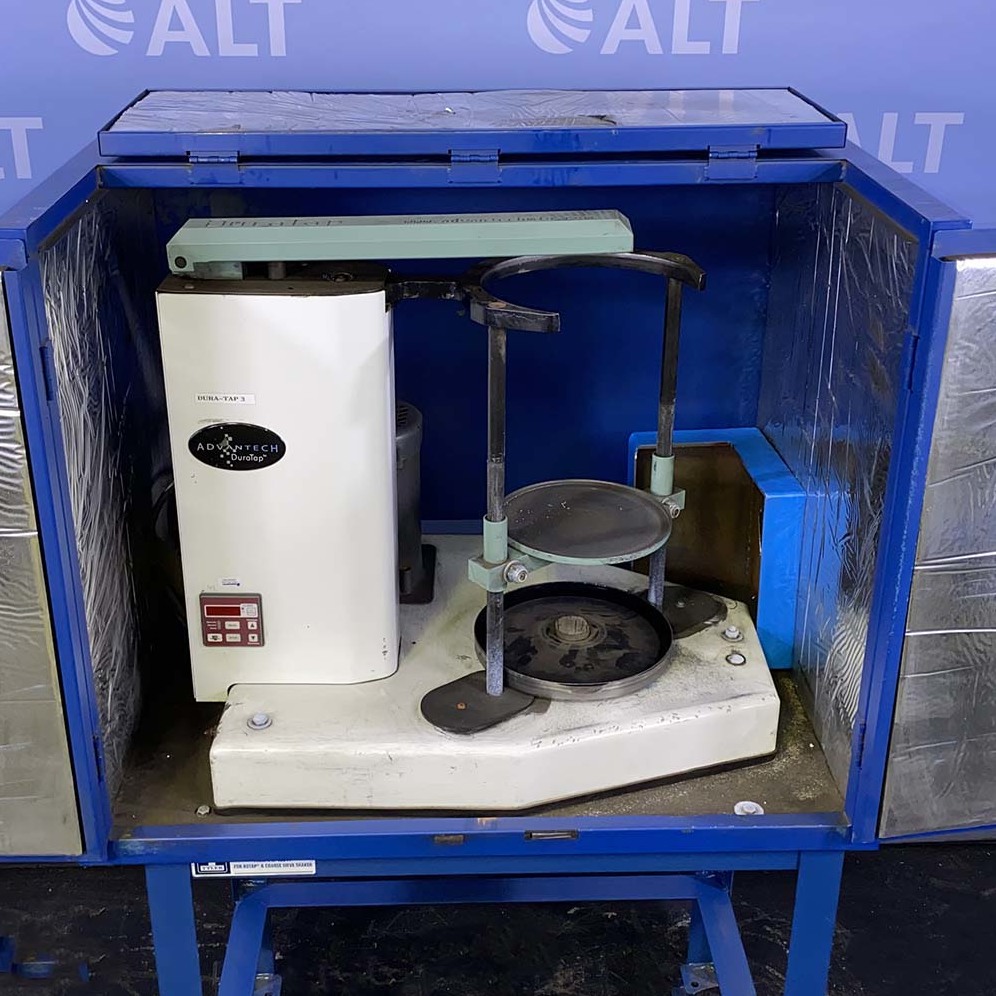 The 8" DuraTap Sieve Shaker is an updated shaker designed to match older test standards or to replace high maintenance rotating and tapping (RoTap) machines. It duplicates the manual sieving motions of rotating and tapping (RoTap), but is ruggedized to overcome the maintenance and repair problems of the original RoTap shakers; and steel and alloy parts replace plastic and grease fittings to facilitate lubrication. Get repeatable results over a wide range of sieve sizes while producing rotational and tapping motion on multiple sieves at once.
Sieves not included.
Specifications:
Particle Size Range
20 microns to 4 inches
Sieve Size
8"/200mm diameter
Sieve Capacity
Seven (7) full height or fourteen (14) half height 8" (200mm) sieves
Oscillation Displacement
1-1/8 inch (28mm) by 3/4 inch (19mm)
Batch Capacity
Approx. 10 lbs. (5 kg)
Timer
±2 seconds over 24 hours
Wet Sieving
No
Speed
Approx. 275 oscillations/min and 152 taps/min
Drive/Sieving Motion
Electric Motor – Oscillation and Tapping
Weight
170 lbs. (91 kg)
Includes W.S. Tyler Sound Enclosure (p/n R-30050) and stand (p/n R-40041).
The W.S. Tyler R-30050 sound enclosure cabinet is designed to work with the DuraTap sieve shaker and greatly reduces sound levels from test sieving operations. Operating noise levels are reduced from approximately 85 dB to 78 dB. Fabricated with 18 gauge steel and a 1" metal faced, acoustic foam inner liner.
The Tyler R-40041 stand for sound enclosures is a sturdy, lightweight aluminum frame stand that can be anchored to the floor.
Dimensions:
Cabinet35" W x 24" D x 30" H (
Cabinet Stand32" W x 20" D x 28" H (