Category: Chromatography - Gas | Subcategory: Autosampler - Headspace
Agilent 7697A (G4556A) 12-Vial Headspace Sampler
ITEM: 31575
This product is currently out of stock, please check our complete line of in-stock Autosampler - Headspace by clicking the green link below or give one of the members of our sales team a call today at (860) 691-2213 so we can help you find a suitable replacement.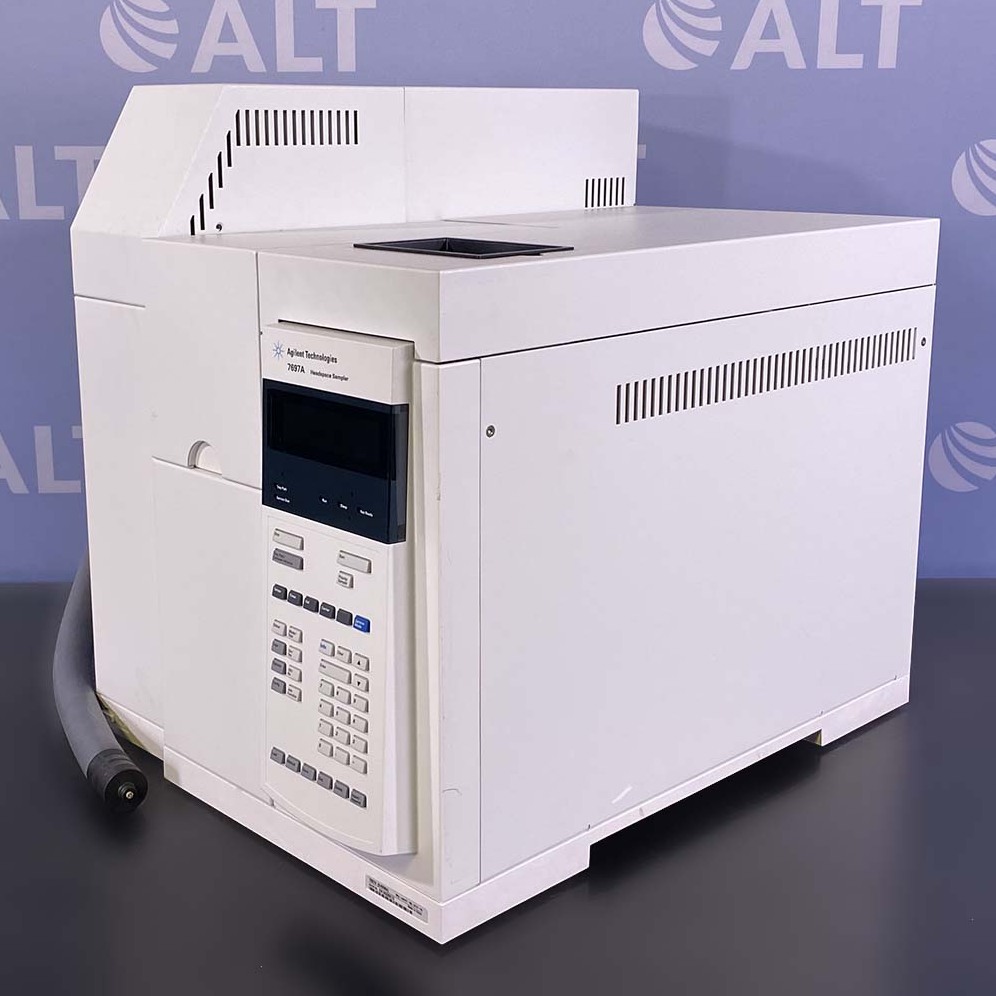 The Agilent 7697A (G4556A) Headspace Sampler (12 Vial Model) is a pressure- loop headspace sampling system with either a 12- vial or 111- vial capacity. If configured for 12 sample vials, the HS uses a single- vial oven to equilibrate the sample at the desired temperature. If configured with the 111 sample vial tray, the HS uses a 12 vial oven for equilibrating samples at temperature. Since the longest hold time in headspace analysis is typically the equilibration time, using a multi- vial oven allows the higher capacity HS to increase throughput by equilibrating multiple vials at once.
Headspace analysis is a technique for analyzing volatile organic compounds using gas chromatography. Headspace analysis samples the ambient volume above a sample matrix, where the volatile compounds exist in gaseous form at predictable levels.
Headspace analysis is useful for situations where:
The analyte of interest is volatile at temperatures below 285 °C (111 vial model) or 195 °C (12 vial model).
The sample matrix is a solid, paste, or a liquid that is not easy to inject into a GC inlet.
Sample preparation to allow easy liquid injection is currently difficult.
Headspace analysis provides several advantages over traditional injections:
Simpler sample preparation. The sample does not need to be processed into an injectable liquid.
Directly analyze a wide range of sample matrices (liquids, solids, and pastes).
Solvent peak is smaller or nonexistent compared to traditional liquid injection GC techniques.
Columns last longer, with less maintenance. The headspace volume above the sample matrix is more clean than the matrix. By injecting fewer contaminants, the analytical column lasts longer and requires less maintenance (trimming, bakeout, guard column replacement, and so forth).
High precision.
Specifications, 12 Vial Model G4556A:
Dimensions
25" W x 27" D x 24" H (64 x 69 x 61 cm)
Weight
84 lbs. (38.2 kg)