Category: Chromatography - Gas | Subcategory: GC-MS
Agilent 7890A GC with 5975C Inert MSD, G4513A Autoinjector and G4514A Sampler Tray
ITEM: 31227
This product is currently out of stock, please check our complete line of in-stock GC-MS by clicking the green link below or give one of the members of our sales team a call today at (860) 691-2213 so we can help you find a suitable replacement.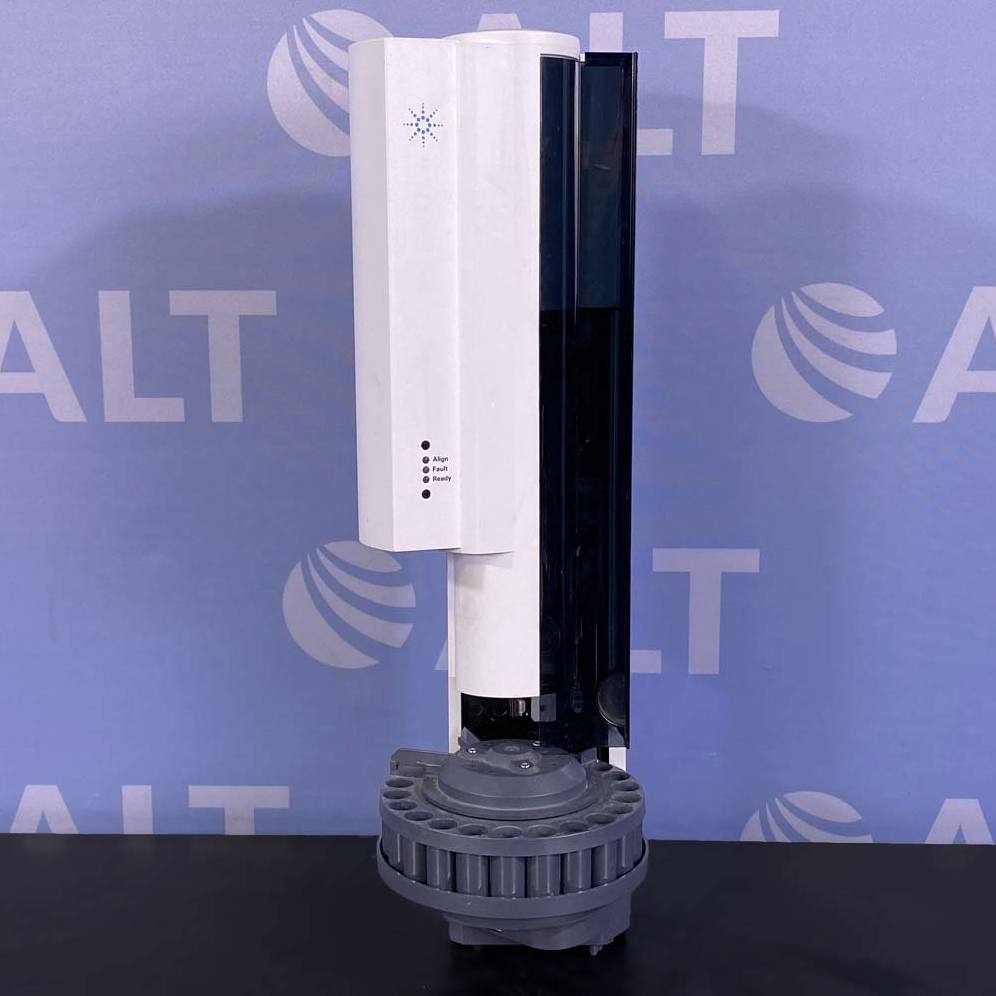 The Agilent Technologies 7890A (G3440A) GC Gas Chromatograph gives you everything you need to take your lab to the next level of GC and GC/MS performance, including advanced separation capabilities, powerful new productivity enhancements and real-time self-monitoring instrument intelligence.

Faster oven cool-down and backflushing let you get more done in less time, at a lower cost per sample. 5th-generation Electronic Pneumatics Control (EPC) and digital electronics set a new benchmark for pressure setpoint and retention time locking precision (0.001 psi) and help make the 7890A Agilent's most dependable GC ever.
The Agilent 5975 Series MSD (G3170 Series Turbo Pump) gives you innovative design features to boost your lab's productivity and advanced analytical capabilities that enhance your results—and your confidence. In addition to delivering better MS resolution and the lowest mass deviation available, this quadrupole mass analyzer offers superior sensitivity and spectral integrity. Advanced analysis routines let you get more information from every run, and the latest version of automated spectral deconvolution, identification, and quantification software provides higher quality analyses with even less operator time and attention.



The Agilent 7693A ALS ushers in a new era of productivity, performance, and flexibility. The 7693A builds on the proven Agilent autosampler technologies that have worked reliably for customers in the past, including dual simultaneous injection and patented fast injection. But the 7693A takes it one step further – adding basic sample preparation capabilities such as dilution, internal standard addition, heating, and more. So whether you want to automate sample injection or the entire sample preparation and injection process, the 7693A is the optimal solution for maximum productivity, performance, and flexibility within many labs.
Specifications:
Dimensions (GC & MSD): 34.6" W x 22" D x 19.6" H (88 x 56 x 50 cm)
Weight: (GC & MSD): approx. 179 - 211 lbs (81 - 96 kg)
Dimensions (G4513A): 18.1" H x 4.7" W x 4.7" D (46 x 12 x 12 cm)

Weight (G4513A): 8.6 lb (3.9 kg)
GC (Gas Chromatograph):
Gas chromatograph: Agilent 7890A System
Oven temperature: Ambient +5 - 450 °C
Oven ramps/plateaus: 20/21
Retention-time locking: RTL-ready
Inlet: (1) split/splitless
MSD (Mass Selective Detector):
Mode: EI
EI ion source type: Noncoated inert EI source
Ion source temperature: 150 - 350 °C
Quadrupole temperature: 106 - 200 °C
Mass filter: Monolithic hyperbolic quadrupole
Minimum mass: 1.6 u
Maximum mass: 1050 u
Mass axis stability: Better than 0.10 u/48 h