Category: HPLC - Liquid Chromatography | Subcategory: LC-MS / LC-MS/MS
Agilent Technologies 6230B Time of Flight (TOF) LC/MS System with Agilent 1290 Infinity System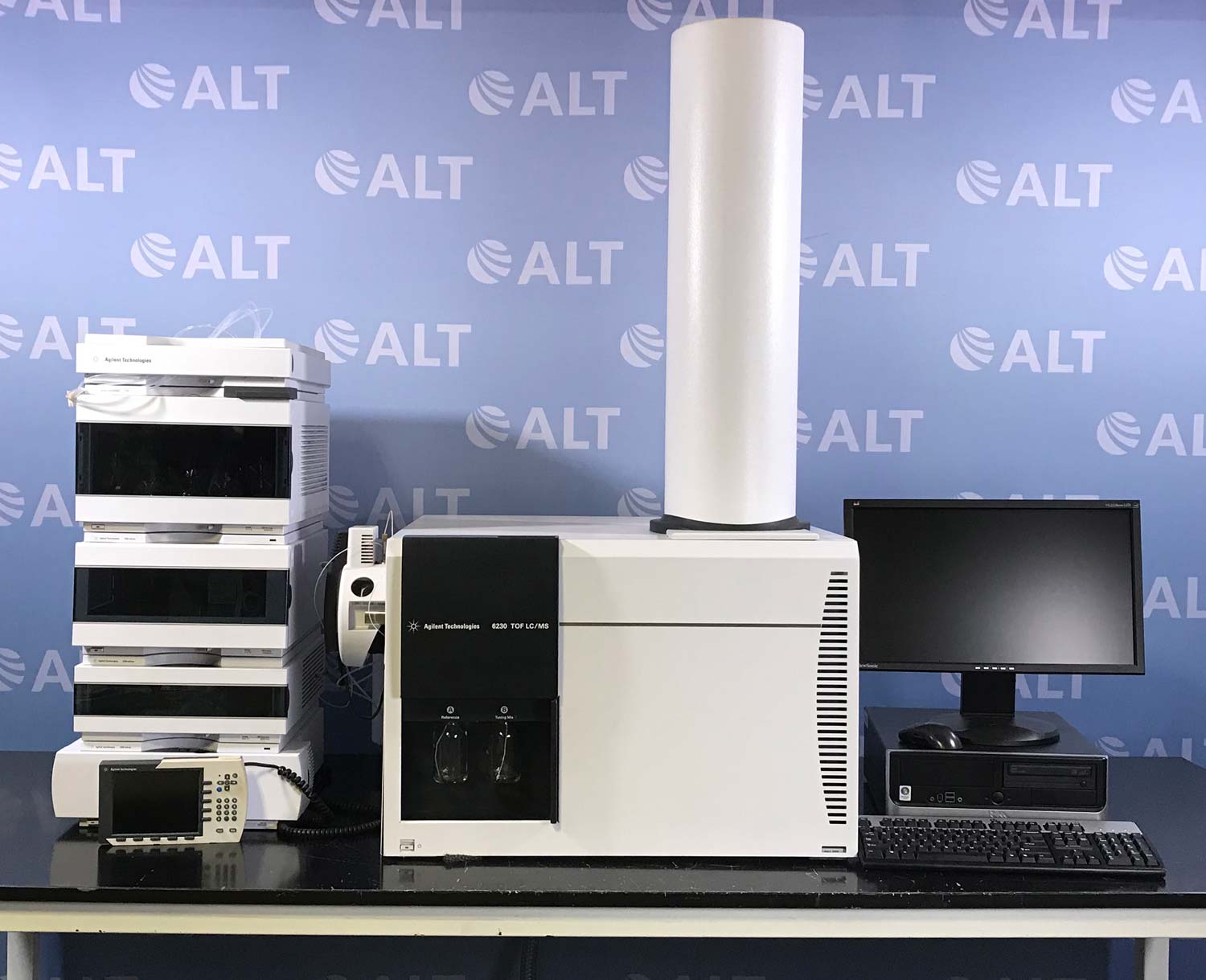 ITEM: 30218 Check Availability
Free 90 Day Warranty
One Year Upgrade Available
Tested & Serviced Prior to Shipping
Or call (860) 691-2213
The Agilent 6230B Time-of-Flight LC/MS (LC/TOF) System allows you to upgrade from unit mass measurements to accurate mass for even more confident compound identification beyond conventional LC/MS detection. You will get full-spectrum data for screening, profiling and identification of small molecules, large biologic compounds, and everything in between. Making the 6230B HPLC TOF ideal for applications like drug development, toxicology, and the analysis of intact proteins.

MS/MS applications are also supported by using fragments formed in the desolvation region of the TOF system's ion source. All Ions MS/MS software then allows highly confident target compound identification by matching fragmentation patterns with an Agilent MS/MS library. Other advanced and intuitive software tools like one-click SWARM autotune and Walkup software allow anyone to routinely achieve reliable results. Producing expert-level results shouldn't require expert-level training. With the Agilent 6230B time-of-flight LC/MS, it won't.

Specifications:

Single point of control: Single point data system method capability with full control for HPLC system and TOF and communication between the two such that if the LC or MS experiences a not ready condition, error, or leak, the system stops injecting the sample.
Wide range of ionization sources

Electrospray (ESI)
Atmospheric pressure chemical ionization (APCI)
Atmospheric pressure photoionization (APPI)
Multimode source (simultaneous ESI and APCI)
HPLC-Chip/MS interface
AP/MALDI PDF + source based upon pulsed dynamic focusing

Transparent introduction of reference masses

Dual-sprayer orthogonal ESI source, with one sprayer for analytical flow and one for the reference compound
Built-in calibrant delivery system for automated introduction of reference masses
Real-time internal reference mass correction for MS operation
Internal reference mass correction for heated sources–multimode, APCI, APPI

Autotune: Automated optimization of ion optics and full TOF MS mass axis calibration
Data mining tools: One-button extraction of compound-specific spectral and chromatographic information using Find Compounds algorithms
Linked software to enable quick manual review of complex data sets: Compound-based data browsing with dynamic links to spectra and chromatograms
Molecular profiling tools

Measurement of potentially relevant molecular features from one or more LC/MS analyses (MassHunter)
Differential expression analysis to reveal features that separate one sample set from another (optional MassHunter Mass Profiler)

Electromagnetic compatibility: CISPR11/EN55011: Group 1, Class A
Sound emission: EN 27779:1991 – sound pressure Lp < 70 db
Power: 200 to 220 VAC; 2500 VA max, 50/60 Hz, 15 A circuit
Operating environment Humidity: 20 to 85 %
Dimensions: 32.6" L x 28.7" W x 52.4" H (83 × 73 × 133 cm)
Weight: 260 lbs (118 kg)
The Agilent 1290 Infinity LC System embodies the next generation of UHPLC—with the exceptional reliability and robustness you expect from Agilent, plus breakthrough technologies to maximize the efficiency of your business. The 1290 Infinity II LC delivers unmatched separation and detection performance for ultimate confidence in your results. Highest sample capacity and fastest injection cycles help you to achieve highest throughput for any application. Seamless integration into your current laboratory infrastructure and smooth method transfer from legacy equipment facilitates nondisruptive transition to highest productivity and lowest total cost of ownership (TCO).
The Agilent 1290 Infinity LC System includes:
G1330B ALS Therm
G4226A 1290 Sampler
G4220A Binary Pump
G1316C Thermostatted Column Compartment
G4208A Control ModuleTray
Vacuum Pump
Computer Pre-loaded with Software, Flat Screen Monitor, Keyboard, Mouse and Cables