Category: PCR | Subcategory: Real-Time Systems
Applied Biosystems QuantStudio 3 Real-Time PCR System, 96-Well 0.1ml Block
ITEM: 32550 In Stock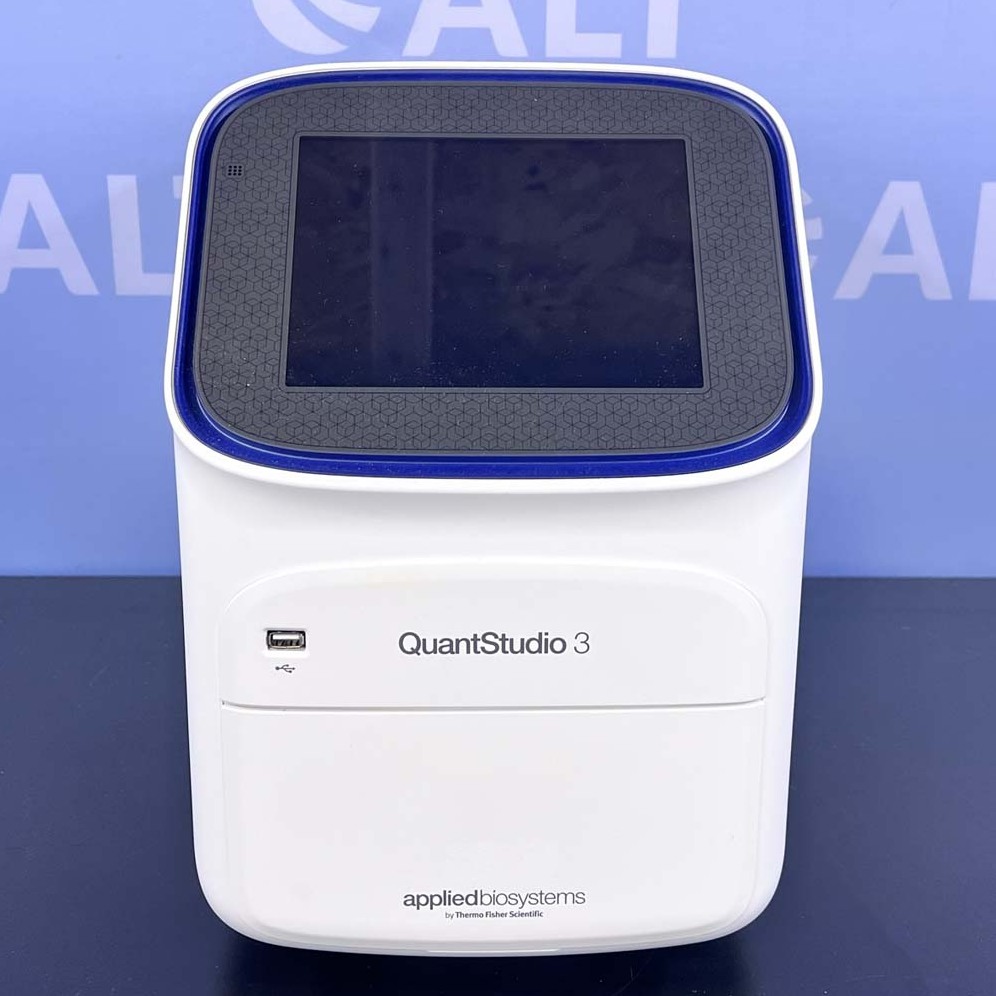 The Applied Biosystems QuantStudio 3 Real-Time PCR System, 96 Well is designed to simplify and streamline the real-time PCR workflow, providing a seamless experience from start to finish. Its user-friendly interface and intuitive software make experiment setup and execution effortless, allowing the user to focus on research rather than technical complexities. Whether the user is a seasoned expert or new to real-time PCR, this system enables the user to achieve reliable and reproducible results with ease.

Equipped with advanced optics and a powerful LED-based excitation source, the Applied Biosystems QuantStudio 3 Real-Time PCR System, 96 Well delivers exceptional sensitivity and fluorescence detection. This allows for the detection of even the faintest signals, ensuring accurate and precise quantification of target nucleic acids. With its dynamic range and wide detection capabilities, ranging from low to high expression levels, this system is well-suited for a broad range of applications, including gene expression analysis, genotyping, allelic discrimination, and SNP detection.

The Applied Biosystems QuantStudio 3 Real-Time PCR System supports a 96-well format, providing high throughput capabilities for large-scale experiments without compromising on data quality. Its fast thermal cycling capability, combined with rapid data acquisition, accelerates research by minimizing run times while maintaining precise temperature control. This enables the user to process more samples in less time, significantly increasing the laboratory's productivity.

Data analysis and interpretation are made simple with the QuantStudio Design and Analysis Software, which provides robust and user-friendly tools for data analysis, normalization, and result visualization. The software allows for seamless integration with other Applied Biosystems analysis tools, making it easy to compare and share results with colleagues and collaborators.

Features:

Simplified instrument software with interactive touchscreen for greater ease of use

Proven OptiFlex technology (four coupled channels with white LED) for trusted results

Secure cloud-based software option provides increased accessibility and storage options

User account management, locked workflow, and Pause features for greater control of experiments

96-well 0.1 mL format
Specifications:

Sample capacity (wells): 96
Reaction volume: 0.1 mL block: 10–100 μL
Excitation source: Bright white LED
Optical detection: 4 coupled filters
Excitation/detection range 450–600 nm/500–640 nm
Multiplexing: Up to 4 targets
Maximum block ramp rate: 0.1 mL block: 6.5°C/sec
Average sample ramp rate: 3.66°C/sec
Temperature uniformity: 0.4°C
Temperature accuracy: 0.25°C
Display Type: Touchscreen
Compatible dyes: FAM™/SYBR™ Green, VIC™/JOE™/HEX™/ TET™, ABY™/NED™/TAMRA™/Cy®3, JUN™, ROX™/Texas Red™
Security, auditing, and e-signature (SAE) features: No
Block Format: Non-interchangeable