Category: Microplate Readers | Subcategory: Multimode Readers
BioTek FLx800T Fluorescence Microplate Reader
ITEM: 31762
This product is currently out of stock, please check our complete line of in-stock Multimode Readers by clicking the green link below or give one of the members of our sales team a call today at (860) 691-2213 so we can help you find a suitable replacement.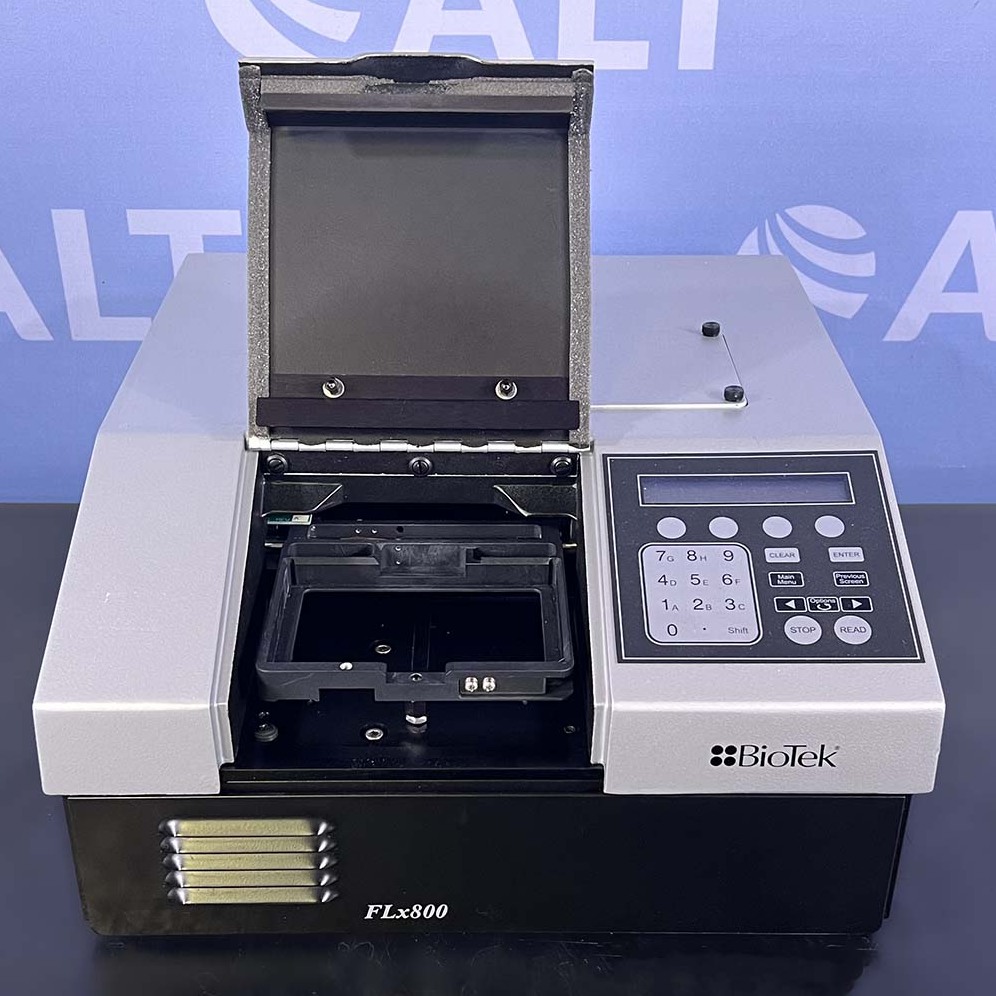 The BioTek FLx800T Fluorescence Microplate Reader measures top fluorescence and luminescence.
The FLx800T provides researchers outstanding value with a combination of excellent performance and ease of use; and the design features a low-noise detection system for increased performance in both fluorescence and luminescence modes.
Features:
Selectable, automated top- or bottom-probe reading for best sensitivity in fluorescence mode
Incubation up to 50 °C for temperature-sensitive assays
Low-noise detector operated in photon integration mode enables high luminescence sensitivity
Flash luminescence, and fast kinetic fluorescence reading with optional reagent injector
Typical Applications:
Nucleic acid quantification
Protein quantification
Enzyme kinetics
Genetic analysis by fluorescence
Cellular analysis by fluorescence
Specifications:
General:
Detection Method
Fluorescence, Luminescence
Read Method
End point, kinetic and area scanning
Microplate Types
6 to 384 wells
Onboard Software
55 user-programmable protocols
Fluorescence Intensity:
Sensitivity
Fluorescein 5 pM typical (1 fmol/well 96-well plate)
Light Source
Tungsten halogen
Wavelength Selection
Deep blocking filters
Wavelength Range
300 – 700 nm
Dynamic Range
5 decades
Luminescence:
Sensitivity
100 amol ATP typical (flash)
Wavelength Range
300 – 700 nm
Dynamic Range
5 decades
Reagent Injector:
Number
1 syringe pump
Dispense volume
5 – 1000 µL in 1 µL increments
Minimum prime volume
1.1 mL, 100 µL with backflush
Physical Characteristics:
Power
100 – 240 Volts AC 50/60 Hz
Dimensions
: 15"W x 16"D x 9"H (38.1 x 40.64 x 22.89 cm)
Weight
: 30 lbs (13.6 kg)