Category: Gauges - Regulators | Subcategory: Regulators
Brooks Instrument Division 5853S Smart Mass Flow Controller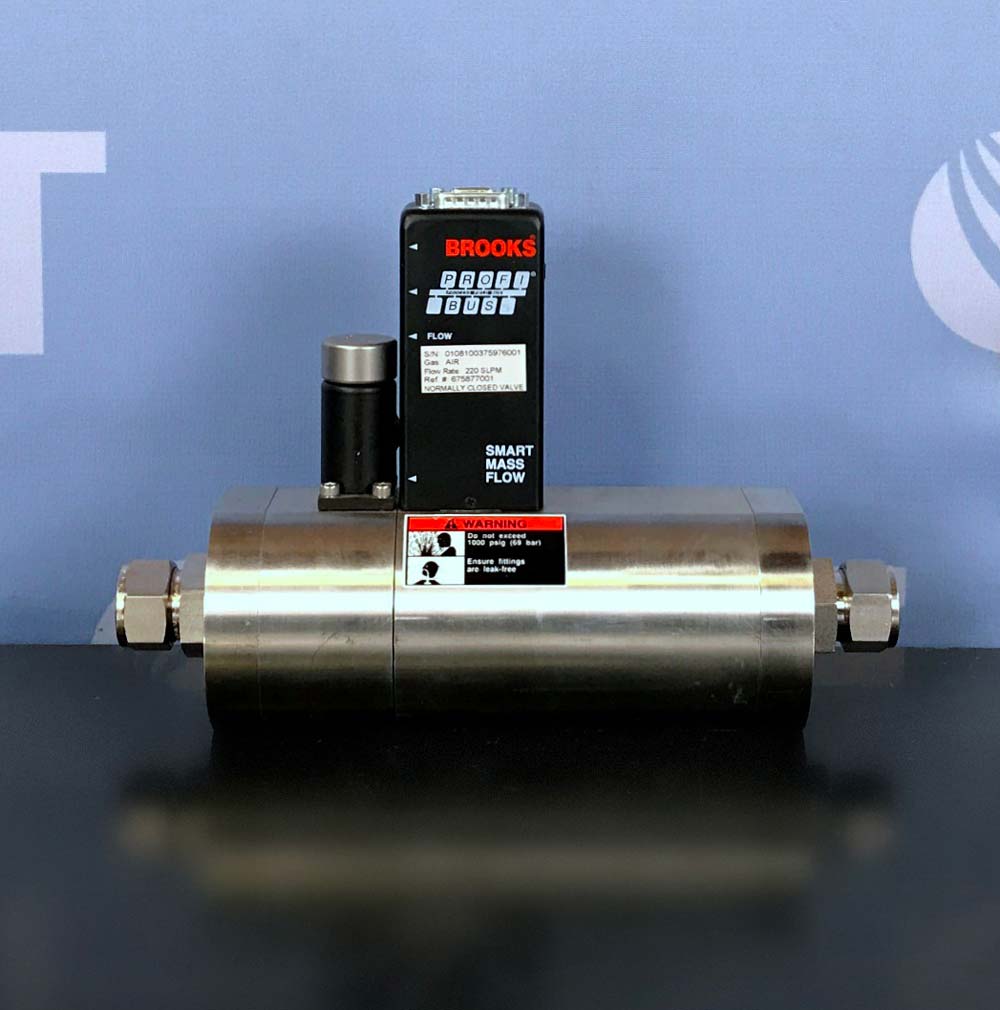 ITEM: 29967 In Stock
The Brooks Instruments SLA5853S Smart Mass Flow Controller is an elastomer sealed digital thermal mass flow measurement and control instrument, which offers unparalleled flexibility and performance.
The SLA5853S is designed for use in advanced gas handling systems. The result is the most accurate, repeatable, and responsive MFC on the market today.

Features:

Wide FS flow range for measurement and control of gases from <3 ccm to 2500 lpm (N2 equivalent)
Accuracy up to 1200 lpm: ±1.0% of rate (20%-100% FS) ±0.2% FS (below 20% FS) 1200-
2500 lpm: ±1% FS including linearity (at calibration conditions).
Industry leading sensor stability. Long term drift performance of < 0.2% per year. Increased system throughput by reducing maintenance and eliminating periodic recipe adjustment.
Storage of up to 10 selectable calibration curves. Spares inventories are reduced by limiting the number of individual MFC/M's required, lowering inventory holding costs.
Elastomer downport process connection option conforms to ANSI/ISA SP-76 standard to offer simplified installation and maintenance in an efficient footprint.
Control Response:

Settling Time of less than 1 second. (better on request).
Soft start can be used to tailor MFC performance to process requirements.
Proprietary Adaptive Valve Control algorithm is available which assures that unexpected variations in process pressure do not cause flow to deviate from setpoint.
Specifications:
Flow Range (Full Scale Capacity): 100 - 2500 slpm
Max Pressure: 1000 psi / 70 bar
Accuracy:

100 - 2500 lpm: 0.9% S.P. (20-100% F.S.)
100 - 1100 lpm: 0.18% of F.S. (2-20% F.S.)
1100 - 2500 lpm: 1.0% of F.S.

Repeatability: 0.20% S.P.
Response Time: <3 seconds
Multi-Gas & Range Configurability: Standard
Analog Communication: 0-5 Vdc, 1-5 Vdc, 0-10 Vdc, 0-20 mA, 4-20 mA
Digital Communication: DeviceNet EtherCAT, EtherNet/IP, FOUNDATION Fieldbus, Profibus, PROFINET, RS-485