Category: Electrophoresis | Subcategory: Power Supplies
E-C Apparatus Corp. EC-103 Minicell Power Supply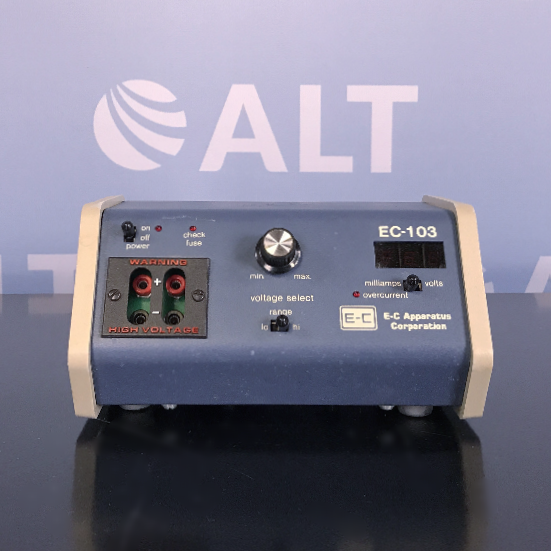 ITEM: 27687 In Stock
Free 90 Day Warranty
One Year Upgrade Available
Tested & Serviced Prior to Shipping
Or call (860) 691-2213
The E-C Apparatus Corp. EC-103 Minicell Power Supply is a gel electrophoresis power supply unit

Features:
- Compact and easy to use
- Minicell is compact and simple to use.
- It features one adjustment know and a high-low switch.
- It also has safety sensors to shut down power
- One adjustment knob and one hi-lo range switch control the output, which is variable in 10 volt increments from 20 to 250 volts
- A two-position switch toggles the LED display between current and voltage.
- Interlock safety sensors shut down the power if no load is detected.
- The Minicell is also equipped with an over current detector.

Specifications:

- Output Voltage: Low Range: 20-130" in 10 V steps
- High Range: 149-250 in 10 V steps
- Maximum Current: 300 mA at 150-250 V
- 500 mA below 150 V
- Net Weight: 6 lb
- Dimensions (W x H x D): 8 x 4 1/2 x 6 in.