Category: Chromatography - Gas | Subcategory: Detection
JAS Atomic Emission Detector, Model jas G2350A
ITEM: 32037 In Stock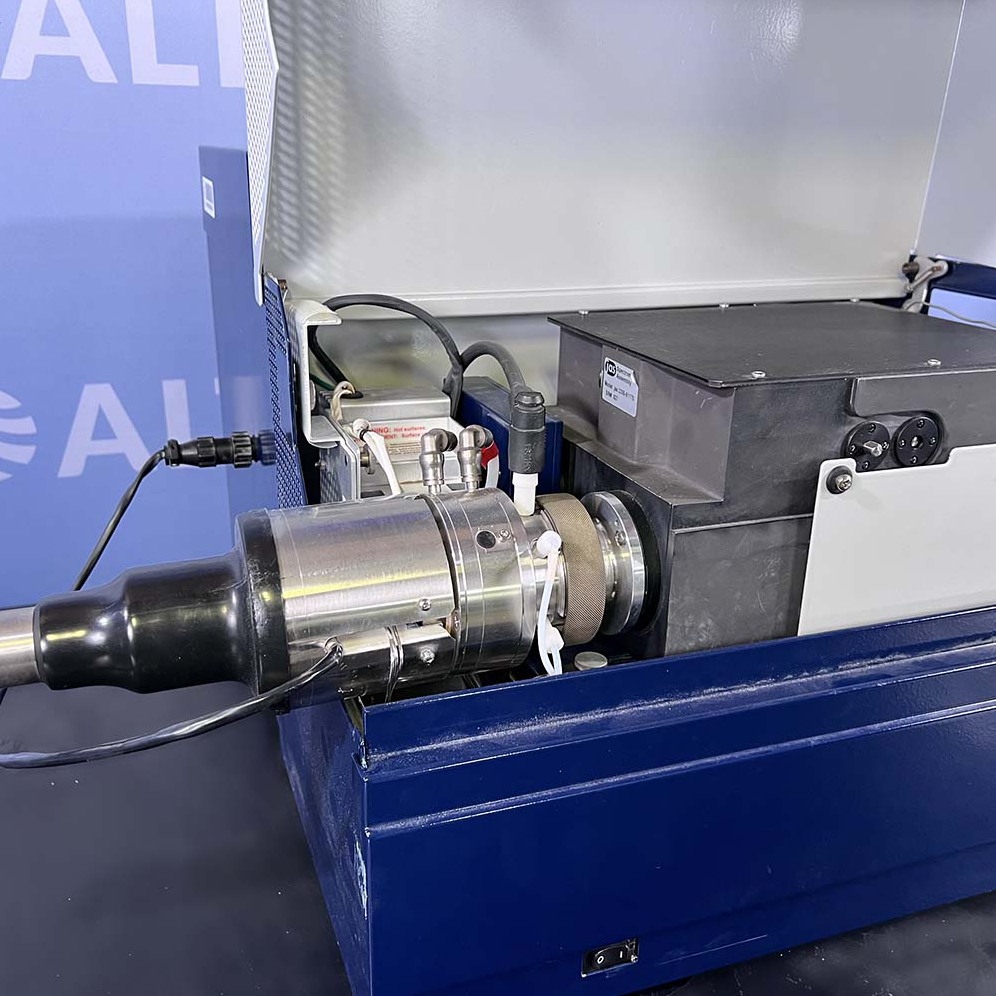 The JAS Atomic Emission Detector (AED), Model jas G2350A is an atomic emission detector for gas chromatography. It lets you detect virtually all elements within any volatized compound (except helium, the carrier gas) at picogram-level sensitivities, with excellent selectivities. The JAS AED transports sophisticated research capabilities into a reliable, cost effective instrument that is easy to use and maintain-ideal for both routine QA/QC and research laboratories.
The JAS Atomic Emission Detector, Model jas G2350A uses atomic emission spectroscopy to detect elements in compounds eluting from a gas chromatograph. A helium plasma fragments all compounds, with the excited atoms producing characteristic emission lines of light. A lens focuses the light onto the entrance slit of the spectrometer. A rotating grating varies the elemental light spectrum covered by the fixed-position photodiode array (PDA). The PDA can measure from one to several elements simultaneously. The JAS Atomic Emission Detector, Model jas G2350A can detect any number of elements per sample by automatically changing the light spectrum wavelength range focused on the PDA and subsequently making a second (or third or more) injection of the sample.
The unit's software displays real-time, background-corrected chromatograms. This technology, using a GC, offers the highest sensitivities and selectivities for element detection.

Features:
Selectively detect compounds containing any of over 20 pre-set elements, including organometallic species and compounds labeled with
stable isotopes.
Enhance analytical confidence by confirming the presence of elements in chromatograms using atomic emission spectra.
Increase productivity by obtaining from one to several element chromatograms with a single
injection.
Automatically profile a sample by sequencing detection of any number of elements in the sample.
Sequence any number of samples.
Screen a sample for specific elements prior to mass spectral analysis to quickly locate peaks of interest, speeding analysis of target or unknown compounds.
Perform quantitative analysis using nearly constant response factors. You can calibrate with any readily available compound containing the element.
Analyze higher-boiling compounds with operation up to 450°C.
Conduct trace-level analyses.