Category: Image Analysis | Subcategory: Imager
LI-COR Odyssey Infrared Imaging System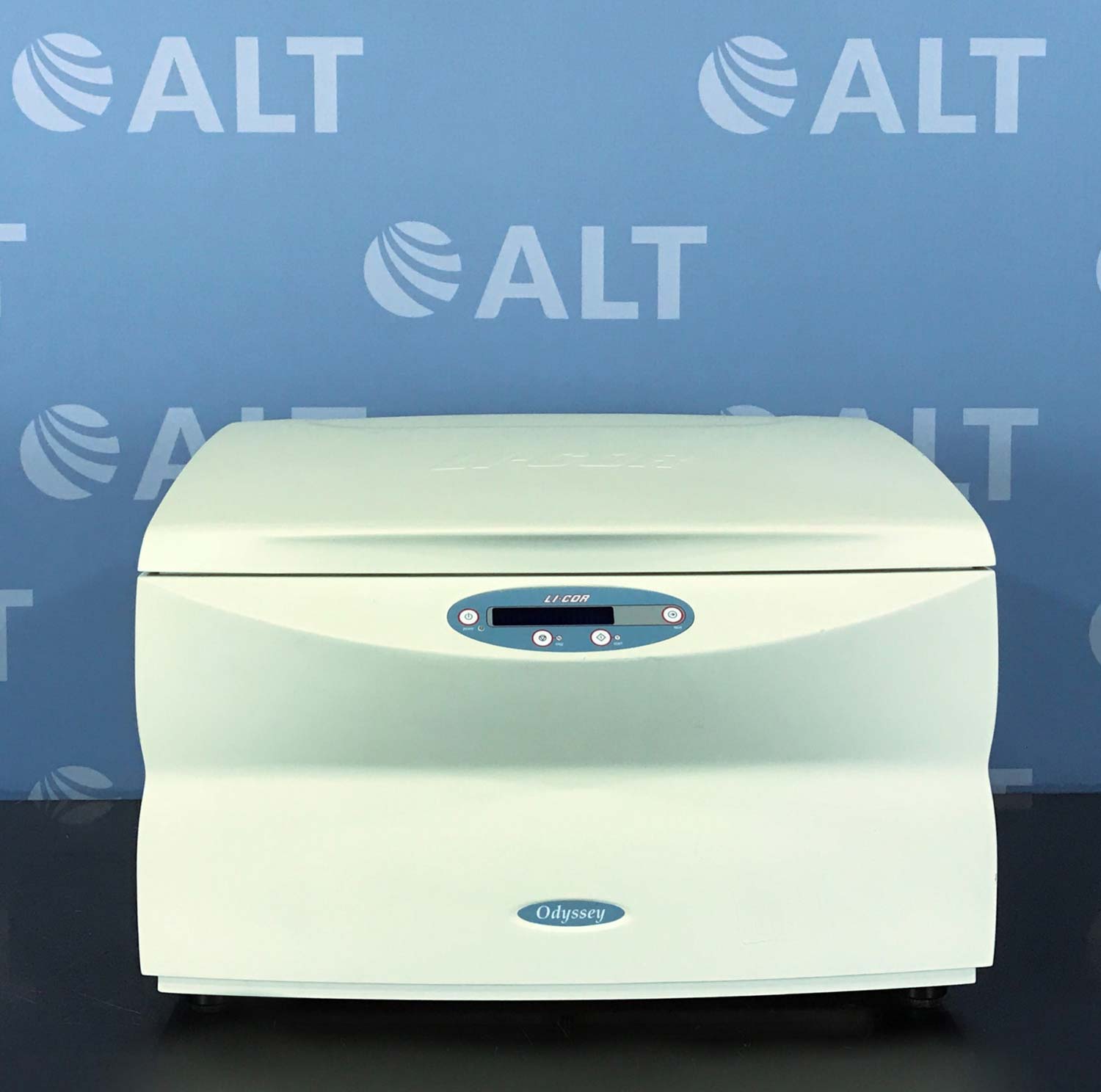 ITEM: 22590 In Stock
Free 90 Day Warranty
One Year Upgrade Available
Tested & Serviced Prior to Shipping
Or call (860) 691-2213
The LiCor Odyssey 9120 delivers accurate and reproducible results with Western Blot and more. The consistent digital images produced by the imaging system cut out the hassle of film, while providing clear Near Infrared results. The Odyssey9120 eliminates the guesswork and background fluorescence, allowing for the sharpest digital results needed to make your assays reproducible. The LiCor scanner uses direct infrared fluorescence detection to count low plentiful proteins need for Western Blot applications. Imaging system plugs directly into a 115v outlet and runs on less than 9 amps.

The Li-Cor Odyssey 9120 Imager includes two solid-state lasers a 685nm and 785nm that work together to bring a resolution of 21-337µm. The system comes with built-in slicon avalanche photodiode detectors and has a scanning speed of 5-40cm per second. The scan bed is movable in the Z-Dimension, which allows the Li-Cor Odyssey fluorescence detection microscope to align at the top of the surface of imaging glass to obtain the best signal-to-noise ration. This infrared imager plugs into a standard 120V outlet and operates on less than 2Amps. Each laser has a shelf-life of 40,000 working hours.

The Li-Cor Odyssey comes with built-in scan features such as near-infrared fluorescence, two color detection, quantification, exact measurements for weak and strong singals, along with a wide linear range scan. This system is ideal for low count plentiful proteins, tissue section analysis, protein assays, in-vivo imaging, Coomassie gel documentation, Western Blot and gel documentation. Now you can run a Western Blot assay with the need for any film, or a darkroom.
Comes fully refurbished, calibrated and tested by our technicians and includes PC preloaded with system software, flatscreen monitor, mouse, keyboard and cables.

Specifications:
700 Channel Laser: Solid-State Diode Laser at 685nm
800 Channel Laser: Solid-State Diode Laser at 785nm
Laser Lifetime: 40,000 working hours
Scanning Speed: 5 to 40cm per second
Detectors: Silicon Avalance Photodiodes
Resolution: 21 - 337µm
Operating Conditions: 15° - 35°C with dew point no greater than 20°C
Data Storage: 80GB Built-in Hard Drive
Power: 120V 50/60Hz 1.1A
Dimensions: 24" W x 22" D x 15"
Weight: 76 lbs
Power: 100-127/200-240 VAC, 50/60 Hz, 8/5 A
Includes: Imager, Computer preloaded with software, Flat screen monitor, keyboad, mouse & cables