Category: Incubators - Ovens | Subcategory: Vacuum Ovens
Napco E Series Model 5861 Vacuum Oven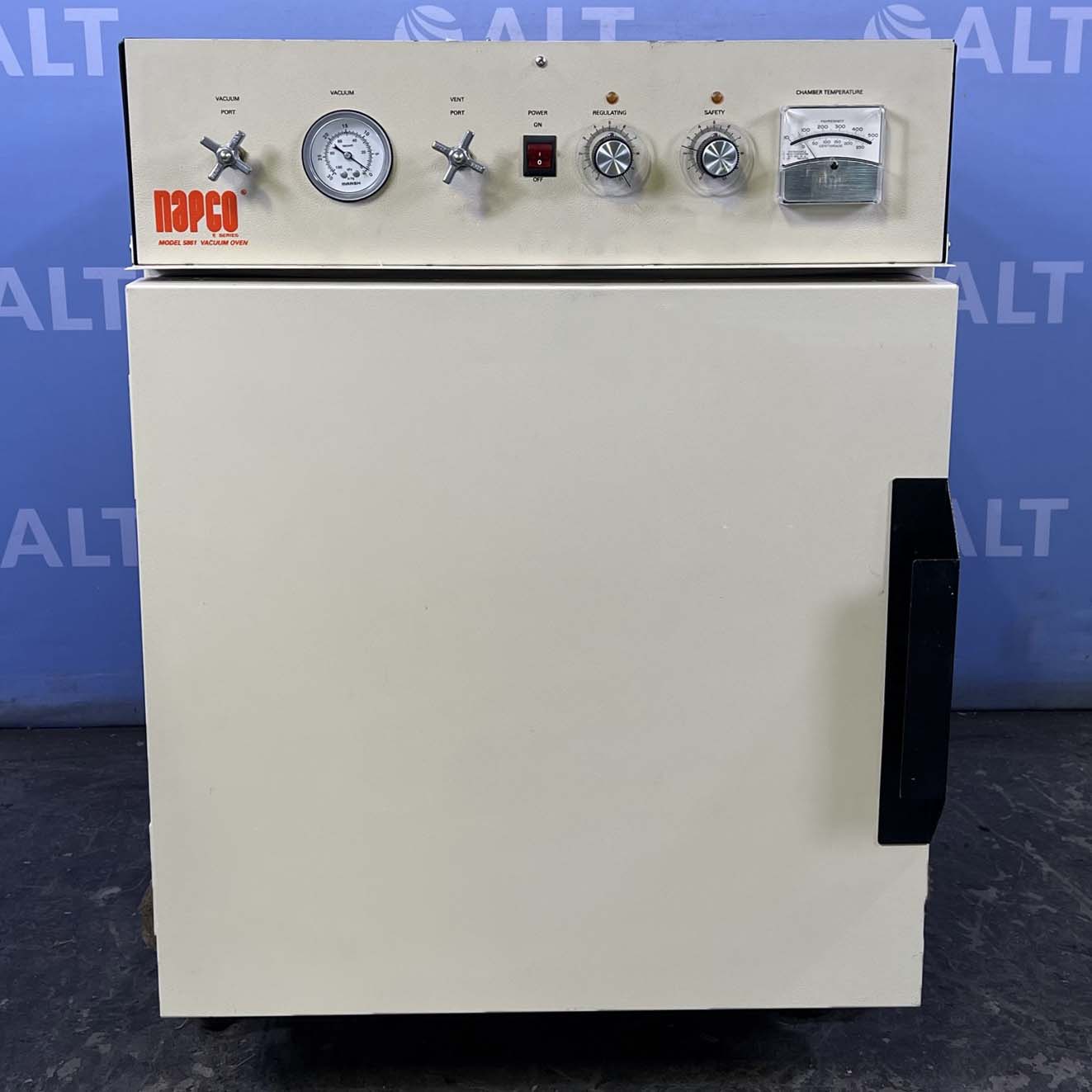 ITEM: 32352 In Stock
The Napco E Series Model 5861 Vacuum Oven provides precise and efficient drying, curing, and heat treatment applications in laboratory and industrial settings. This vacuum oven combines cutting-edge technology, superior construction, and advanced features to deliver exceptional performance and reliability.
The Napco E Series Model 5861 Vacuum Oven offers a generous 4.5 cubic feet (127 liters) of interior chamber capacity, providing ample space for accommodating a wide range of sample sizes and quantities. Its rugged stainless steel construction ensures durability and longevity, making it suitable for demanding environments and prolonged use.
The Napco E Series Model 5861 Vacuum Oven is designed for user convenience and ease of operation. The front-mounted control panel with an intuitive interface allows for simple programming and monitoring of oven parameters. The interior of the oven is equipped with adjustable shelves to accommodate a variety of sample sizes and configurations. The easy-to-clean stainless steel chamber ensures effortless maintenance and sterilization.
To ensure the safety of both users and samples, the Napco E Series Model 5861 Vacuum Oven is equipped with various safety features. An adjustable over-temperature protection setting prevents the oven from exceeding the desired temperature, safeguarding sensitive samples from overheating. The oven's double-wall construction with high-quality insulation minimizes heat loss and maintains temperature stability, contributing to a safe and energy-efficient operation.

Specifications:

Temperature range: 35°C to 200°C
Capacity: 4.5 cu. ft. (127 liters)
Shelf capacity: 2.6 sq. ft. per shelf
Shelves: 3
Dimensions, Interior: 18"W x 24"D x 18" (46 x 61 x 46 cm)
Dimensions, Exterior: 26"W x 36"D x 35.5"H (66 x 91 x 90 cm)
Maximum Temp: 200°C
Digital Controller: Located In Side Mounted Box
Interior: Stainless Steel
Viewing Window
Power: 120V, 60 Hz, 12.5 Amps
Weight: 290 lbs (132 kg)