Category: Scintillation Counters | Subcategory: Liquid Scintillation Counters
PerkinElmer/Wallac 1450-021 Trilux MicroBeta Jet Liquid Scintillation and Luminescence Counter
ITEM: 18488 In Stock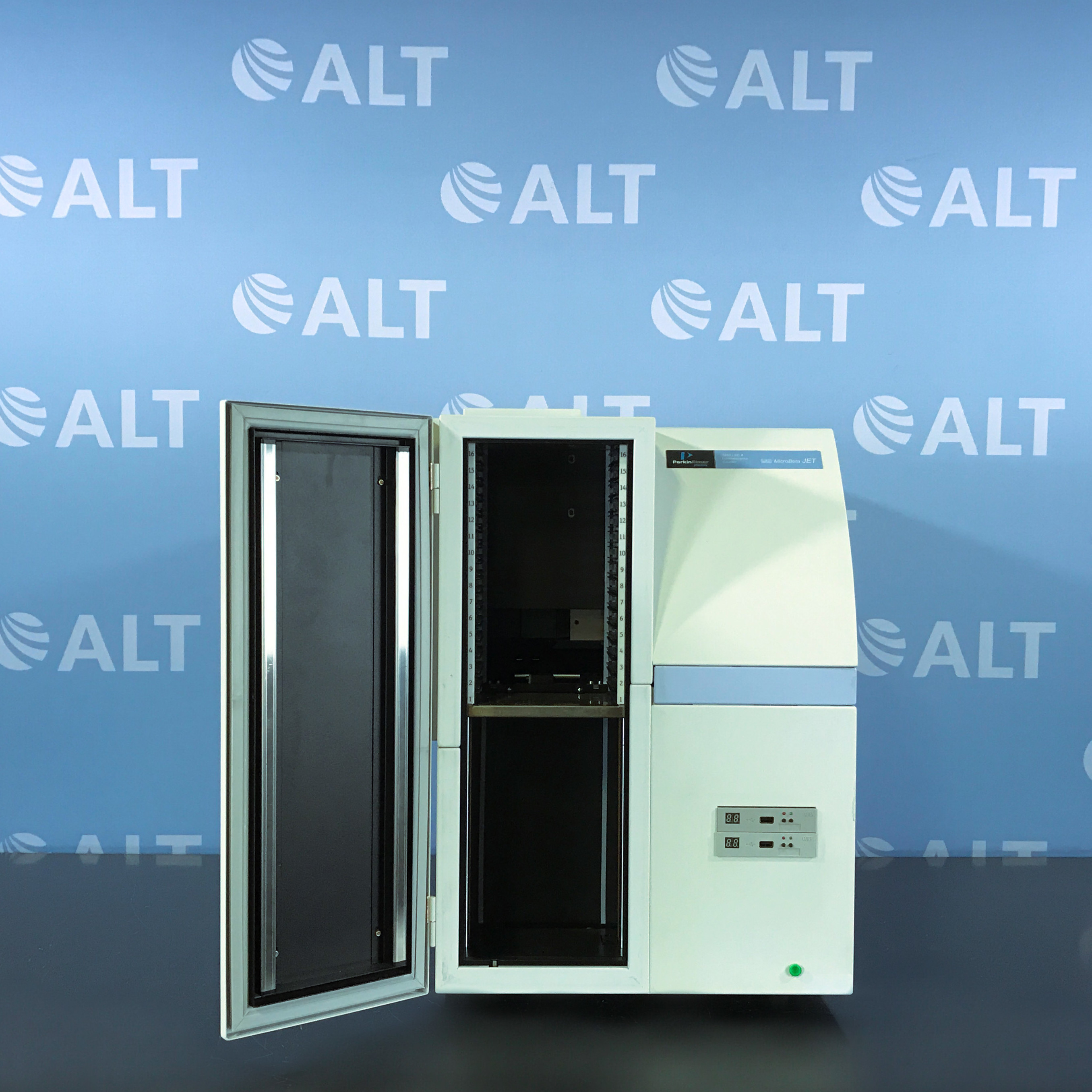 The Perkin Elmer/Wallac 1450-021 Trilux MicroBeta Jet Liquid Scintillation and Luminescence Counter is a 6 Detector, 16-shelf model with 6-channel injector, software and computer. MicroBeta® JET is a multi-detector instrument designed for liquid scintillation or luminescence detection of samples in microplates, tubes or on filters. MicroBeta JET also includes one or more reagent injectors for measuring prompt (or 'flash') reactions.

Wallac MicroBeta TriLux is today's leading microplate liquid scintillation counter and luminometer. By combining LSC reliability with plate reader simplicity, it allows vast savings in time, consumables and waste.
MicroBeta TriLux is ideal for assays using 3H, 14C, 32P, 33P, 35S, 51Cr, 125I and glow-type luminescence labels as well as for ScintiPlate, FlashPlate and other scintillation proximity assays. It counts filters and tubes in addition to microtitration plates. Control is by Windows workstation software.

Features:
- Choice of 1, 2, 3, 6 or 12 detectors, which can count in 96- and 24- or 96- and 384-well formats.
- Software features include the facility to count non-standard 4 x 6 and 16 x 24 formats.
- Unique detector design consists of two photomultiplier tubes (PMT), one positioned above the sample and one below. These count the sample from the top and bottom at the same time (coincidence counting), providing the best possible counting geometry and excellent counting efficiency for every assay type.
- MicroBeta is suitable for counting scintillation proximity assays with FlashBlue™ or SPA; filtration assays (e.g., with Millipore MultiScreen™); tissue culture plates; all solid (or dry) scintillators such as MeltiLex®; yttrium silicate; FlashPlate® microplates; and liquid scintillation counting are all ideal for use with the MicroBeta.
- Automatic optimized photo-multiplier movement gives the correct geometry for microplates, filtermats or tubes up to a maximum sample height of 45 mm. The maximum sample height in robot loading a MicroBeta is 20 mm.
- Unique cassette-based sample changing mechanism provides a versatile sample support system for all kinds of sample types, from microplates to microcentrifuge tubes to 4 mL LSC vials.
- Cassette support for all sample types provides the only practical way to count flexible microplates, complete filtermats or tubes.
- Bar code reader that focuses on a reusable barcode on the cassette provides identification of up to 100 counting protocols and other counting commands. - Counting modes include single and dual label CPM, single and dual label DPM, ParaLux™ count mode and luminescence counting.
- Crosstalk correction is provided for optical and isotopic crosstalk in samples that can not be prepared in non-crosstalk format.
- Instrument shelf stacking system provides easy access and identification of samples.
- Optimized counting conditions for all the commonly counted isotopes are included as standard. Settings for other beta and gamma isotopes can be made by the user.