Category: Mixers - Stirrers - Shakers | Subcategory: Mixers
Scientific Industries Vortex-Genie 2T Model SI-T236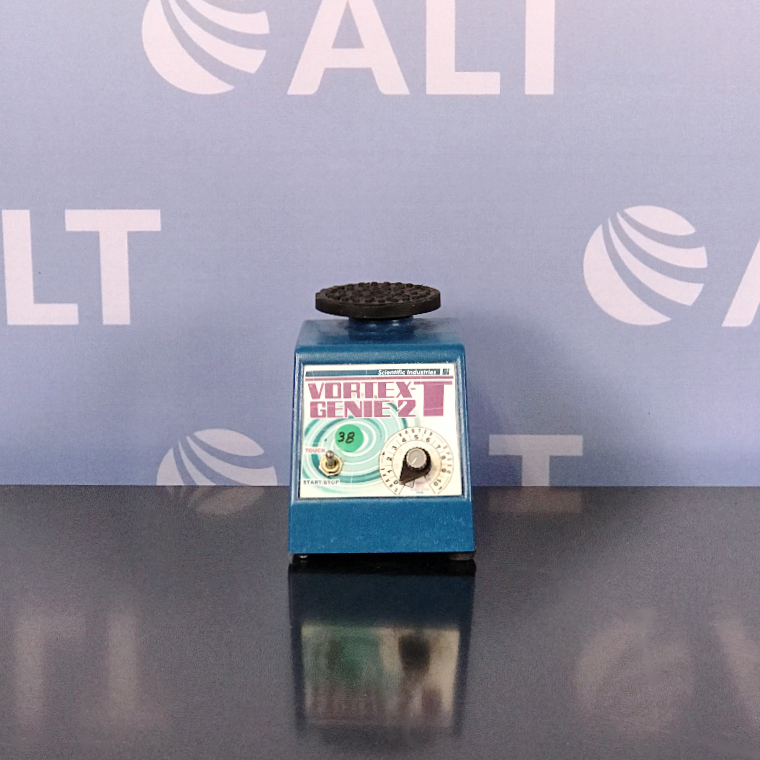 ITEM: 23021 In Stock
Free 90 Day Warranty
One Year Upgrade Available
Tested & Serviced Prior to Shipping
Or call (860) 691-2213
The Scientific Industries Vortex-Genie 2T incorporates the precise and reliable mixing action of the familiar Vortex-Genie 2 with an integrated timer for increased convenience. Continuous mode operates from 1-60 minutes, and "Touch On" mode operates from 1-60 seconds. Untimed operation is also available. Variable speed control allows precise mixing from gentle shaking to vigorous vortexing. The Vortex-Genie 2T is supplied with a pop-off cup and 3-inch (76mm) platform (Part Nos. 146-3011-00 and 0K-0500-902, respectively).
Shaking or Vortexing Action: Variable speed control allows slow speed shaking action up to high speed vortexing. In addition, each attachment is designed to produce different mixing actions, allowing users to choose the correct action for each application.
Multi-Task Versatility: A broad range of attachments of various shapes, sizes, and materials allows for mixing of almost all common tubes or containers for Hands-Free or Touch operation.
Hands-Free or Touch: A 3-position power switch operates with continuous action or "Touch On" control. With the true "Hands-Free" operation of continuous action, lab operators can greatly increase lab efficiency.
Does not walk: Tough metal housing combined with "just enough weight", provides a stable platform for all types of mixing.
Unmatched Reliability: Many years of proven performance in laboratories all over the world.
Timer Function: Both Touch and Hands-Free mode automatically turns unit off after set time. Touch Mode: 1-60 seconds. Hands-Free (switch activated Start/Stop) Mode: 1-60 minutes or continuous untimed mode.
Convenient: No need to watch the clock Unit automatically stops at set time – in Touch Mode or Hands-Free (switch activated Start/Stop) Mode.
Reproducibility: Vortexing time is constant, no matter the day or operator. Accuracy ±5%.