Category: Chromatography - Gas | Subcategory: GC-MS
Shimadzu GCMS-QP2010 SE Single Quadrupole Gas Chromatograph System
ITEM: 31795 In Stock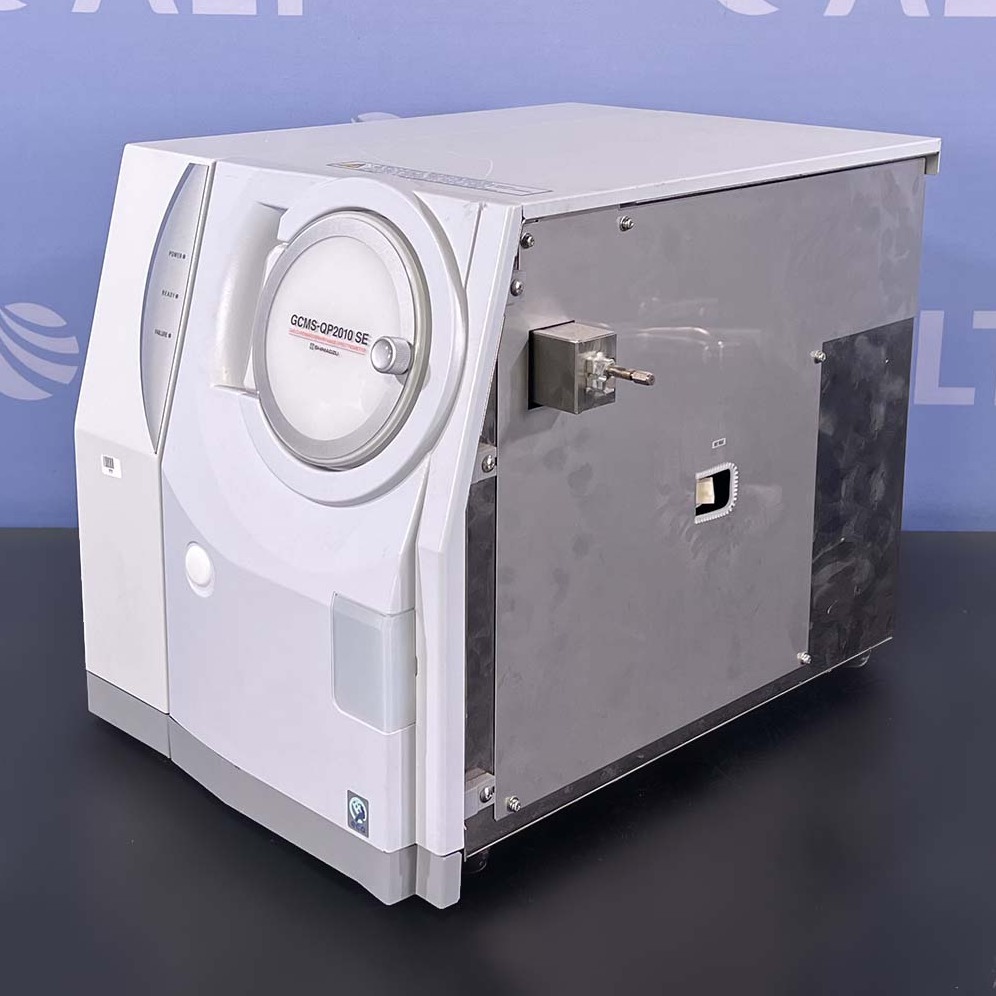 The Shimadzu GCMS-QP2010 SE Single Quadrupole Gas Chromatograph System is a single quadrupole gas chromatograph-mass spectrometer offering stable and cost-effective analysis for challenging compounds. A high-performance quadrupole mass filter ensures high sensitivity in both quantitative and qualitative analysis. The GCSMS-QP2010 SE is compatible with multiple sample introduction methods to enable a greater range of applications.
The GCMS-QP2010 SE incorporates a front-opening chamber in a design that is both visually pleasing and practical, allowing maintenance to be performed with ease from the front of the instrument. "MSNAVIGATOR," which supports maintenance, has been improved to help the user perform instrument maintenance.
The ion optics are optimized by employing a high-performance quadrupole mass filter and Shimadzu's proprietary Optdesign simulation program to provide high-quality mass spectra. Fully-automated MS tuning enables anyone to optimize parameters easily and consistently. This helps ensure that stable mass spectra can always be obtained.
Shimadzu's patented technology for mass scanning produces ideal mass filter characteristics (Patent: US5227629). This system features an easily removable pre-rod and lens system that allows the user to quickly perform cleaning and maintenance. Less downtime means greater productivity.
Specifications:
Mass Range
m/z 1.5 to 1000
Ionization Mode
EI
EI Scan Sensitivity
1 pg octafluoronaphthalene m/z 272 S/N > 200 (Installation check out specs)
Column Flow
Up to 4mL/min
Pump
Turbomolecular pump (58 L/sec for He), Rotary pump 30 L/min (60Hz)
Power (GC)
115/230 VAC, 50/60 Hz, 1800/2600 VA
Power (MS)
100-230 VAC, 1000 VA
Dimensions(GC and MS)
33.85" W x 20.87" D x 17.32" H (86 x 53 x 44 cm)
Weight (GC and MS)
165 lbs. (74 kg)