Category: Laboratory Accessories | Subcategory: Hydraulic Press
Testing Machines, Inc. Compression Tester, Model 17-76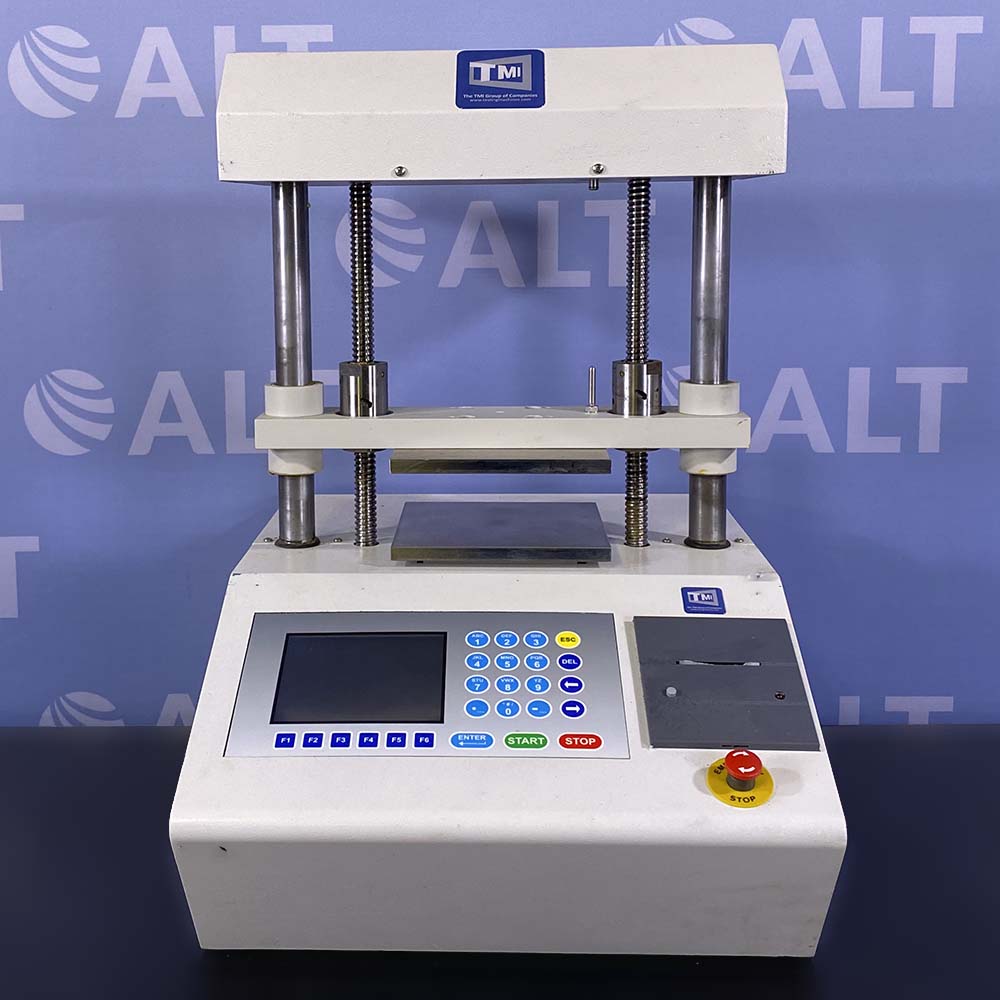 ITEM: 31386 In Stock
Designed in close cooperation with industry, the Testing Machines Inc. model 17-76 Compression Tester is rugged enough for any production testing environment. The 17-76 is designed to provide highly accurate measurement of compressive strenath for a variety of materials.
Microprocessor control and operator-friendly software makes the 17-76 simple to operate. A new Servo Motor desian provides closed loon feedback for accurate and repeatable position control Ergonomic control layout maximizes the testing sequence while minimizing sample testing errors resulting in incorrect data. The instrument meets or exceeds all international testing standards for accuracy, precision, and parallelism.
System Software includes 8 Corrugated Test Methods for quick access including: RCT, CCT, ECT, CMT, FCT, PAT, CLT and SQT- score test which calculates Score Ratio of scored verses unscored samples. Test methods can be created by the operator and stored for future reference to simplify test set up. Other compression methods include peak force, peak height and stack load.
Intuitive Software design and touch panel allows Simple test operation.
Test screen automatically provides result data and statistics arter each test.
Applications: Corrugated, Tubes and Cores, Bottles and Cans, Flexible Packaging, Plastic Products, Building Products.
Features:
Color LCD Display
Menu-driven Software
Test resuts and statistics are displaved on screen
Preset keys for all relevant tests
Automatic fast return platen saves testing time
Multi-lanquage programmed- 7 languages
8 Corrugated Test Methods for quick access
Specifications:
Measuring Range
0 - 1000 ID(0- 4448 Newton)
Load Cells
500 lb, 1000 Ib (2250 N, 4448 N)
Accuracy
+5% of reading
Stroke Length
8" (20.3 cm) optional 16" (40.6 cm) or 24" (61 cm)
Measuring units
N, N/m², lb, lb/in², or kg or kg/m²
Speed
Test Speed: 0.2 - 20"/min(5.08 - 508 mm/min)
Return Speed: 10"/min (254 mm/min)
Platen Size
Upper platen 7" x 7" (17.8 x 17.8 cm)
Lower Platen 7" x 7" (17.8 x 17.8 cm)
Load Capacity
1000 LB (4448 N)
Statistics Display

Number or tests
Highest value
Lowest value
Average
Standard deviation
Variation coefficient
Max. number of tests: 100 (in one test series)

Power
120/220V, 50Hz/60Hz
Safety Features
Overload protection based on load cell in use
Connections
RS232C output, Built-in Printer
Internal Languages
English - Dutch - German - French - Spanish - Finnish - Italian
Weight
149 lbs. (68 kg)
Dimensions
17" W x 21.5" D x 28" H (43 x 55 x 71 cm)