Category: Spectroscopy | Subcategory: Spectrophotometer
VWR UV-1600PC Spectrophotometer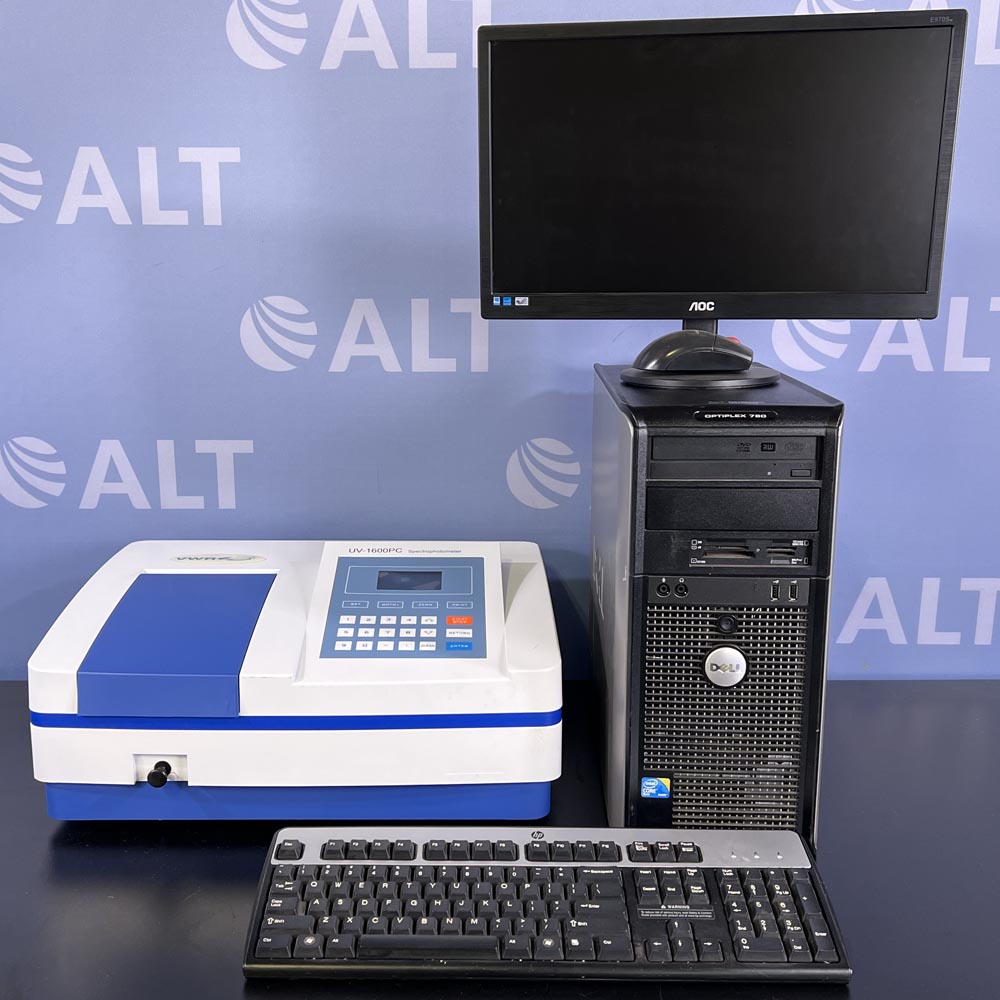 ITEM: 32577 In Stock
The VWR UV-1600PC Spectrophotometer is designed for routine daily quality control requirements, in process control and teaching laboratories. With a wavelength range of 190 to 1100 nm, it covers a broad spectrum for a wide variety of applications, from routine quality control to cutting-edge research.
Featuring an intuitive user interface and a user-friendly LCD display, this spectrophotometer simplifies analytical tasks for the user. The on-screen navigation and pre-programmed methods make it easy to set up and run experiments.

Whether the user needs to conduct single-wavelength measurements, spectral scanning, time-based kinetics, or concentration determination, the VWR UV-1600PC Spectrophotometer is ideally suited for the task.

Features:

Large LCD display (128×64 pixels)

Can save up to total 200 results and 200 standard curves

Download data to PC via USB interface

Application software, allows PC control of the spectrophotometer, including basic mode, quantitative, wavelength scan, kinetics, multi-wavelength and DNA/protein.
Specifications:
Optical System: Single Beam
Wavelength Range: 190-1100nm
Band Width: 4nm
Stray Light: ≤0.05%T @ 220nm & 360nm
Photometric Range: 0 to 200%T, -0.3 to 3.0A, 0 to 9999C
Wavelength Accuracy: ±0.5nm
Photometric Accuracy: ±0.5%T or ±0.005A @ 1A
Stability: 0.002A/h @ 500nm
Memory: 200 Results & 200 Standard Curves
Languages: 4; English, French, German, Spanish
Display: 128×64 Dots Matrix LCD
Interface: USB, Parallel
Measuring Procedure: Photometry, Quantitation, Kinetics
Power: 110V, 60Hz, 120W
Dimensions: 19.2" W x 14.2" D x 9.4" H inches (49 × 36 × 24 cm)
Weight 31 lbs (14 kg)