Category: Chromatography - Liquid/HPLC | Subcategory: HPLC Systems
Waters Preparatory-LC System Featuring Waters 2535 Quaternary Gradient Module, Prep Injector, 2424 ELS Detector, and Fraction Collector III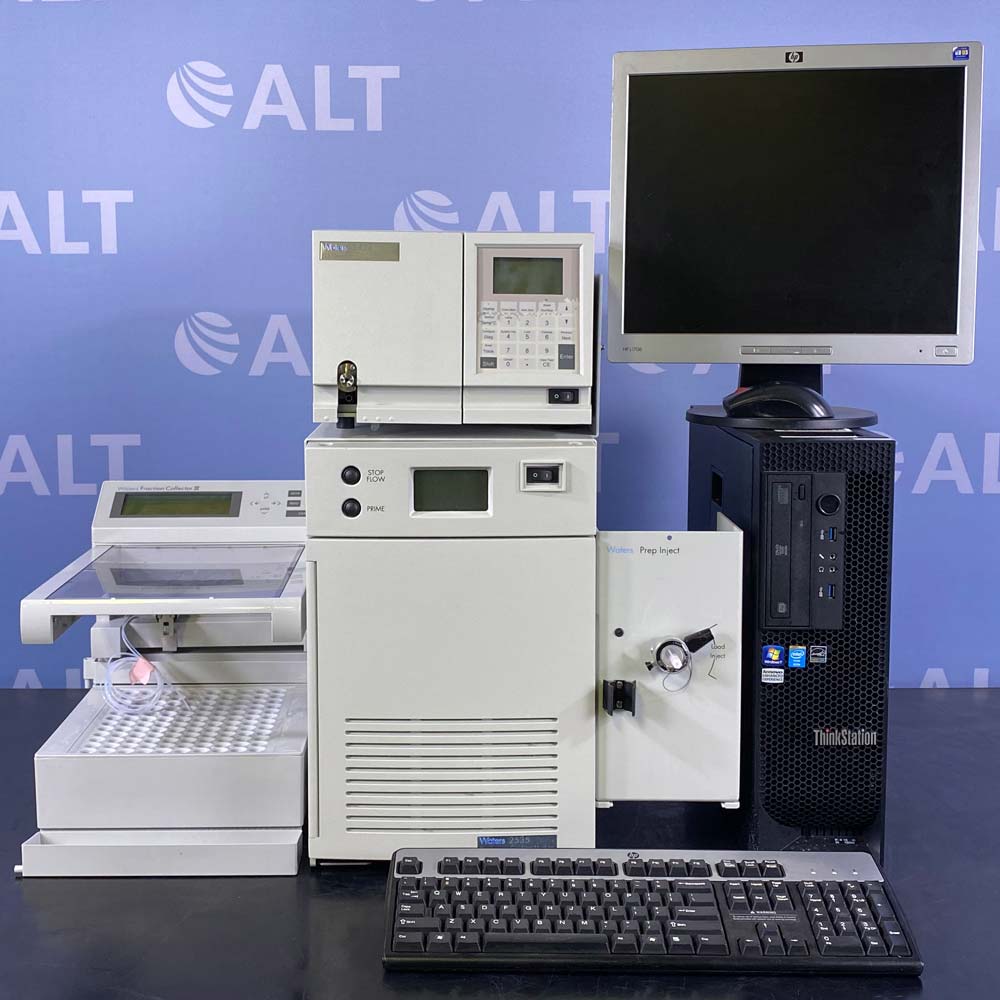 ITEM: 30821 In Stock
The Preparatory-LC System Featuring Waters 2535 Quaternary Gradient Module, Prep Injector, 2424 ELS Detector, and Fraction Collector III offers consistent, reliable performance to ensure confidence in your analytical results, day-to-day and year-to-year.
Features:

Four-solvent gradient selection
Two fluidic pathways (small scale and large scale) to accommodate column selection and chromatographic efficiency
Control from MassLynx or Empower software, or console allowing scale up via a familiar software interface
Interfaces to a variety of detectors and peak fraction collectors for optimum purifications
Allows UV- or MS- directed purification with MassLynx Software
50 mL/min capability for using columns up to 30 mm I.D. for purification of milligrams of material
High pressure operation @ 6,000 psi (414 bar) to accommodate a wide variety of column lengths, diameters, and particle sizes.
2535 Quaternary Gradient Module Specifications:
Electrical data
6.5 A, 50/60 Hz
Power consumption
650 W
Fuse
10A, 5 x 20 mm, slow-blowing, IEC type
Line Voltage
100 to 240 Vac +/- 10%
Operating temperature
4 to 40°C
Operating humidity
10 to 90%, non-condensing
Dimensions
11" W x 26" D 17" H in. (28 x 66 x 43.2 cm.)
Weight
87 lbs.(39.5 kg.)
2424 ELS Detector Specifications:
Power
100-240V 50/60 Hz
Operating temperature range
4 to 30°C; avoid direct exposure to sunlight and heating and cooling vents
Storage temperature range
-30°C to 60°C
Relative humidity
20 to 95% non-condensing
Storage humidity
0 to 95%, non-condensing
Dimensions
13.2" W x 26" D x 8.2" H (33.53 x 66.04 x 20.8 cm)